OCTOMINER X12 Ultra Mining Rig
999.00€ – 1299.00€ 0% VAT
OCTOMINER X12 ULTRA is a scalable mining rig suitable for large scale blockchain
deployment. OCTOMINER X12 ULTRA allows for both environmental and system information
monitoring for better control and optimization.
High quality materials offer reliability, efficiency and profits through good power usage
and high uptime.
– 3600W (2 x 1800W 205-240v compatible) High Spec version
– 4200W (3 x 1400W 200-277v compatible) High Spec version
– 2250W (3 x 750W 110v & 220v compatible) Base Spec version
– DIMENSIONS 90x40x17.8CM
– 1 YEAR INTERNATIONAL WARRANTY ON ALL PARTS
NOTICE! ALL OF OUR SERVER POWER SUPPLIES ARE REFURBISHED. THEY HAVE BEEN THOROUGHLY LOAD TESTED AND CERTIFIED WITH A FULL 1 YEAR INTERNATIONAL WARRANTY.
1. HIGH PERFORMANCE & LONG LIFESPAN FANS
2. ACCURATE ENVIRONMENTAL DATA
3. SMART HARDWARE WATCHDOG & FAN CONTROLLER
4. FULL HARDWARE AND SOFTWARE INTEGRATION
Contact us for a special offer!
THE ONLY SMART
GPU MINING RIG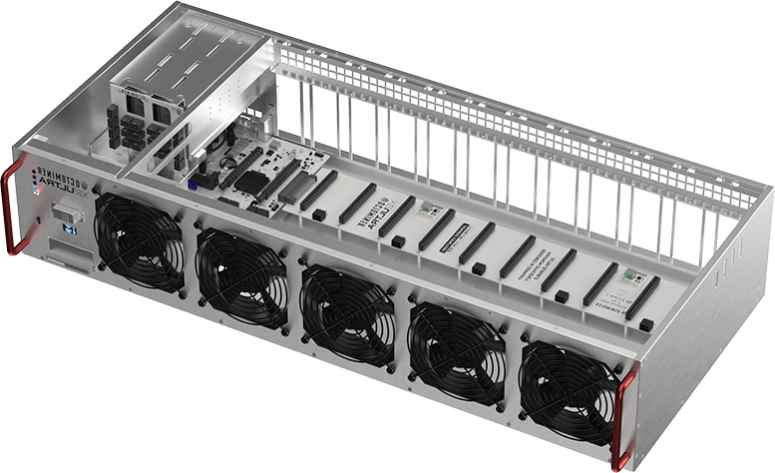 NEXT GEN MINING RIG
BUILT FOR EFFICIENCY
ETHEREUM HASHRATE
1600W - 683MH/S
Power consumption may vary up to 5% depending on exact GPUs used and miner settings. 1600W Power Reading is actual accurate reading from the wall.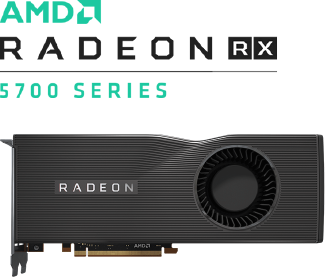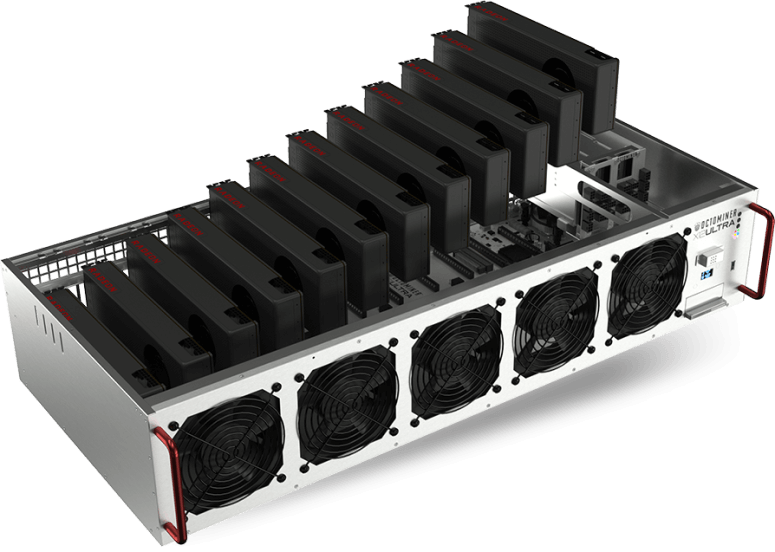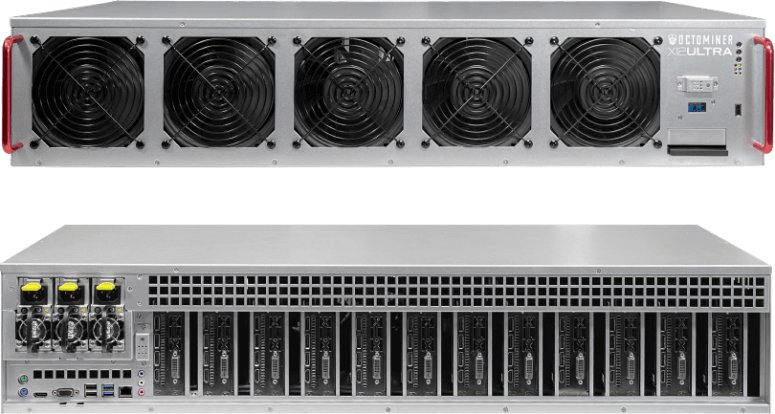 DESIGNED FOR LARGE SCALE BLOCKCHAIN
DEPLOYMENTS
ENTERPRISE GRADE POWER DELIVERY
OCTOMINER SMART POWER SUPPLY
TELEMTRY FEATURES: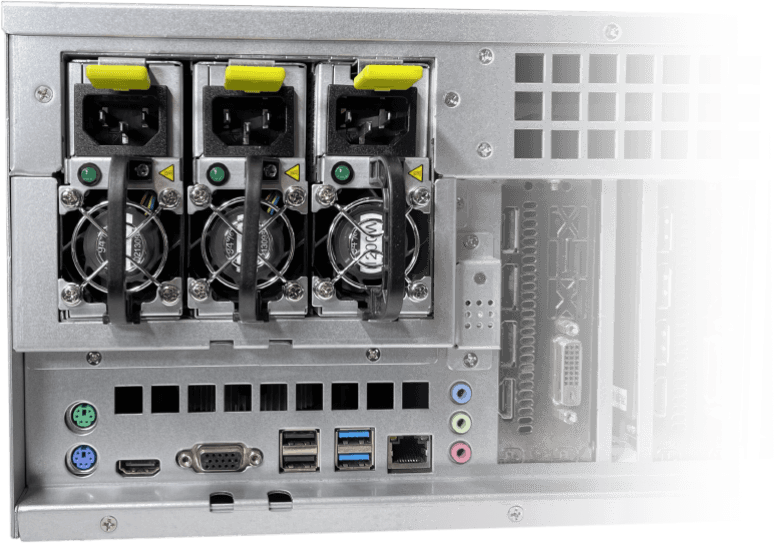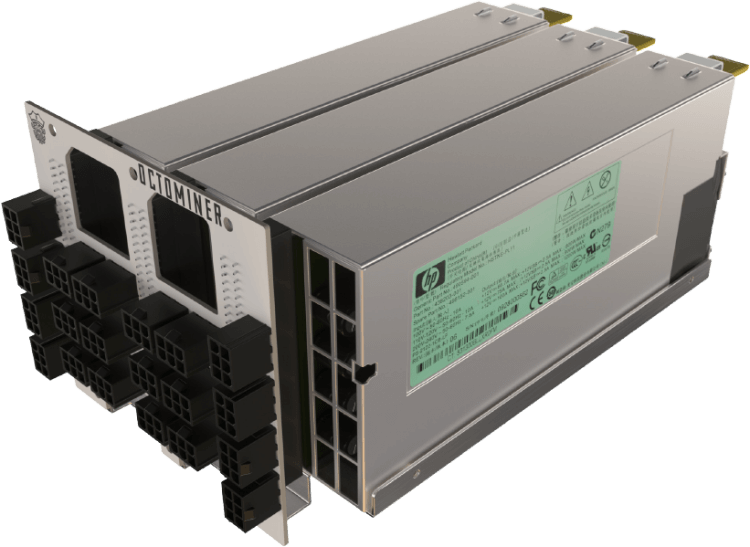 SMART POWER SUPPLY TELEMTRY READOUT EXAMPLE:
*All 3 Power Supplies have their individual READOUT. Above example shows READOUT for single PSU. 94% EFFICIENCY ENTERPRISE GRADE HOW SWAP POWER SUPPLY (UP TO 3X 1200W, TOTAL 3600W) *Optional 277V Upgrade possible (3x 1400w 27V for Combined 4200W Total)
*Octominer X12ULTRA only UL listed and fully CE certified power supplies.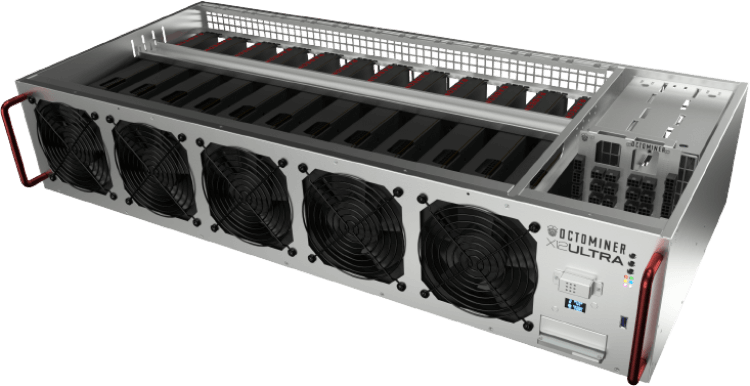 LONG LIFE JAPANESE CAPACITORS
PANASONIC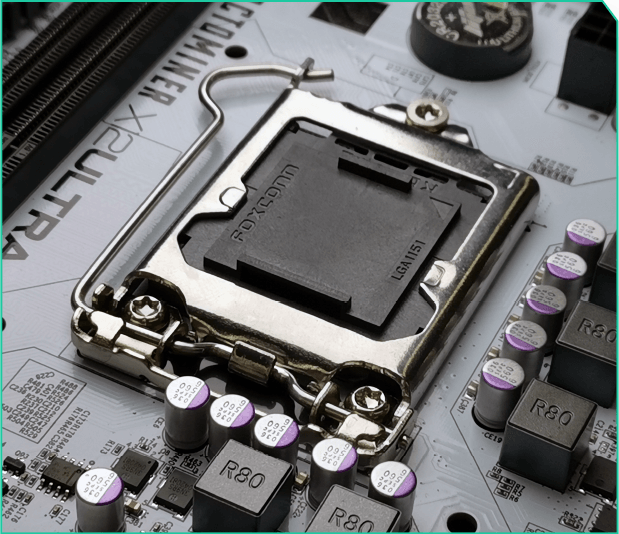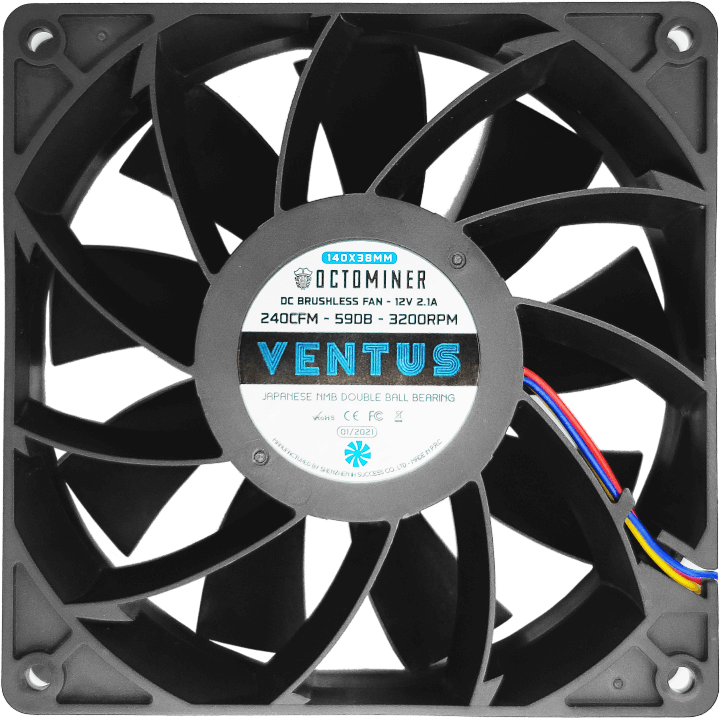 140X38MM FANS, HIGH AIRFLOW & EFFICIENCY
HIGH PERFORMANCE & LONG
LIFESPAN FANS
TEMPERATURE - HUMIDITY - AIR PRESSURE
Take full control of your environment. Precise and fast Environmental Data helps keep your hardware safe from extreme conditions and helps maintain optimal cooling settings for the case fans. Save on electricity and keep your hardware cool!
CONFIGURABLE OLED
DISPLAY
Customisable front panel OLED screen integration that displays all the major data from the rig, mining algorithm, hashrate, IP, MAC Address, power consumption, bad shares, fan speed, temperature.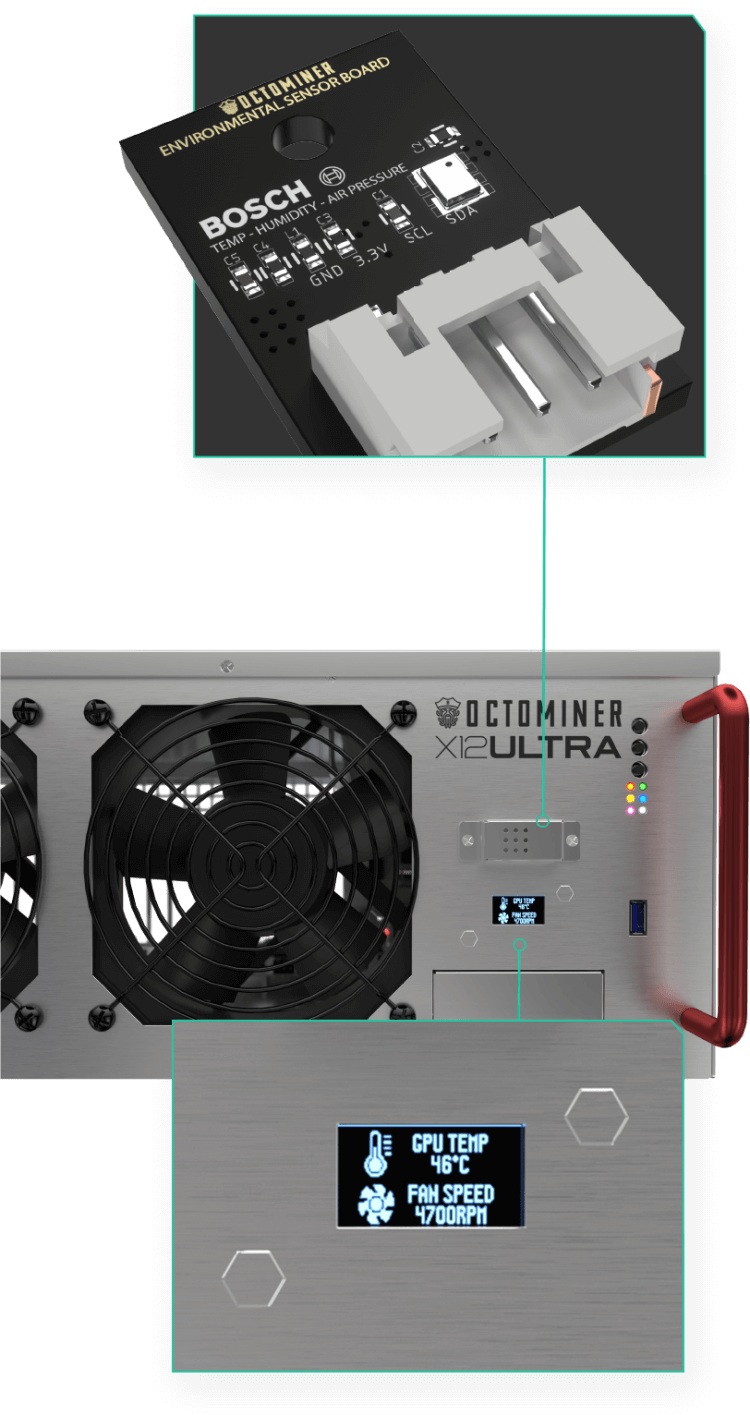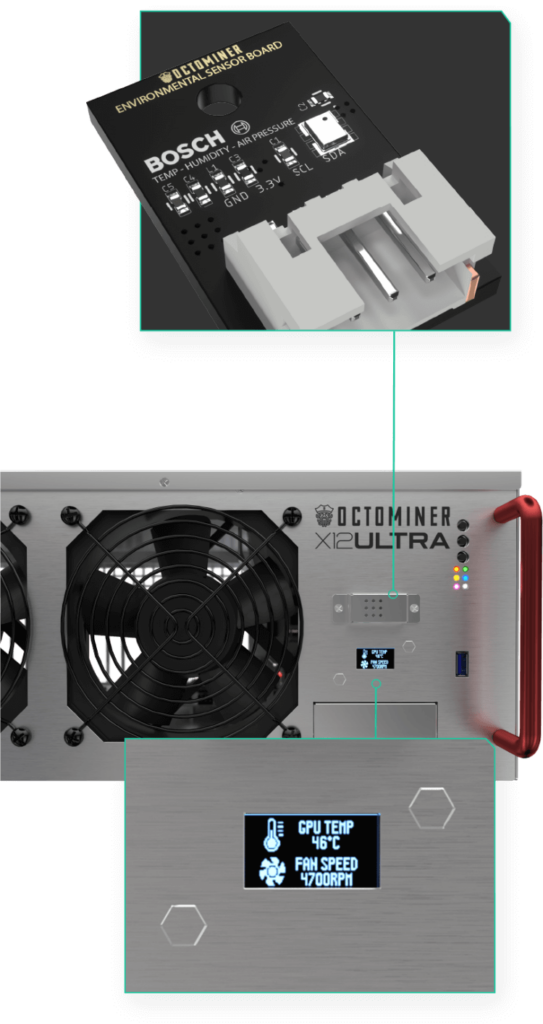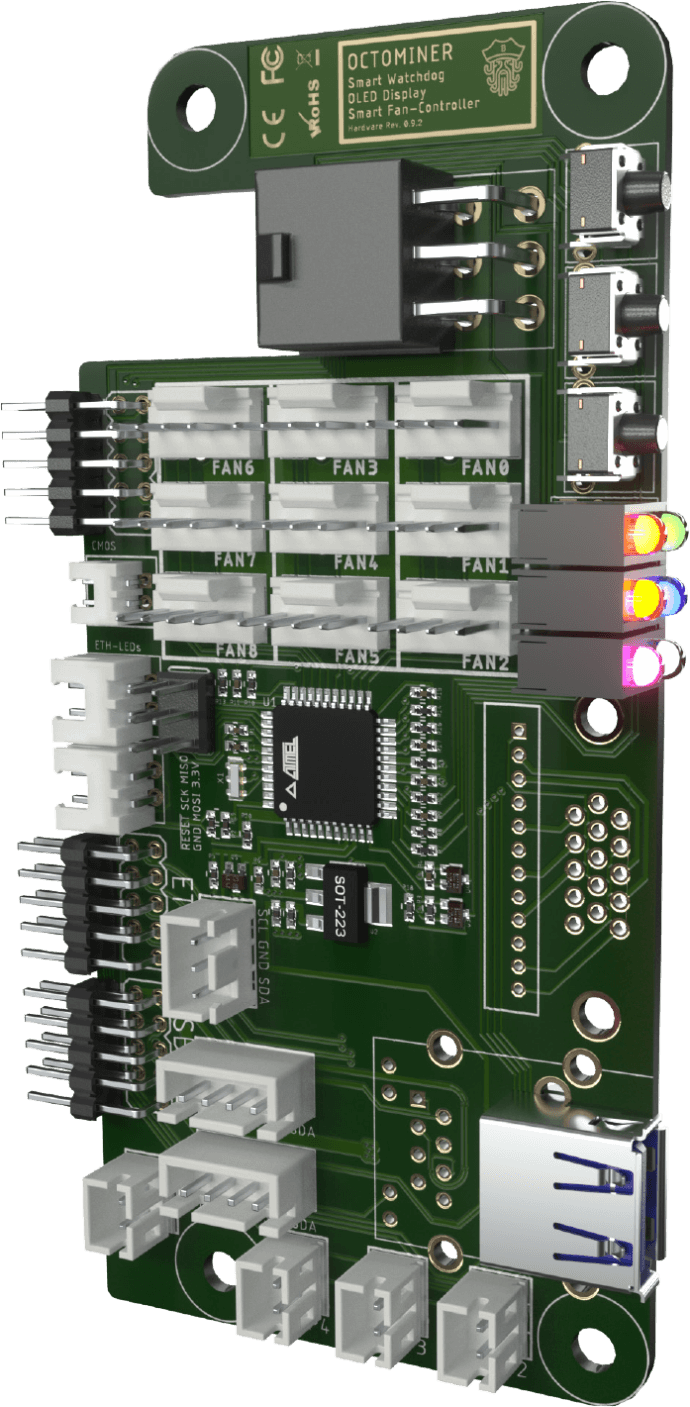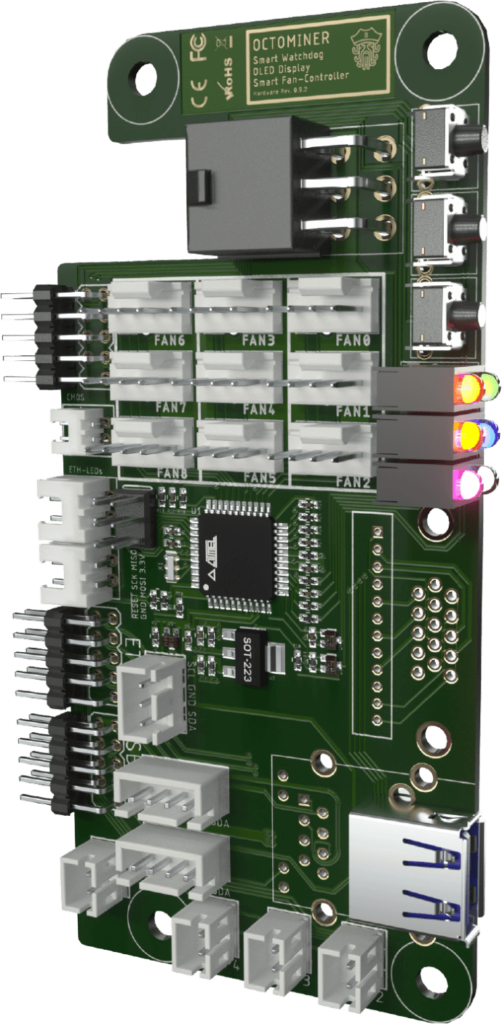 SMART HARDWARE WATCHDOG &
FAN CONTROLLER
Full integration with any mining OS allows the smart fan controller & hardware watchdog to automatically regulate the case fan speed based on the environmental readings to keep the GPU temperatures in the optimal zone. It is possible to choose the "optimal temperature" range in the mining OS and set the minimum RPM and lock the fans into a set RPM using the manual adjustment. The hardware watchdog will reboot a frozen rig automatically after the microcontroller detects that the rig has frozen and needs a reboots.
LET OUR SMART HARDWARE DO THE WORK FOR YOU!
FULL HARDWARE & SOFTWARE
INTEGRATION
One of a kind software and hardware integration help boost profits, minimize rig downtime, Save on electricity, and in general reduces the time and manpower needed for large farm Management
SMART FEATURE INTEGRATION WITH ALL THE MAJOR MINING OS'S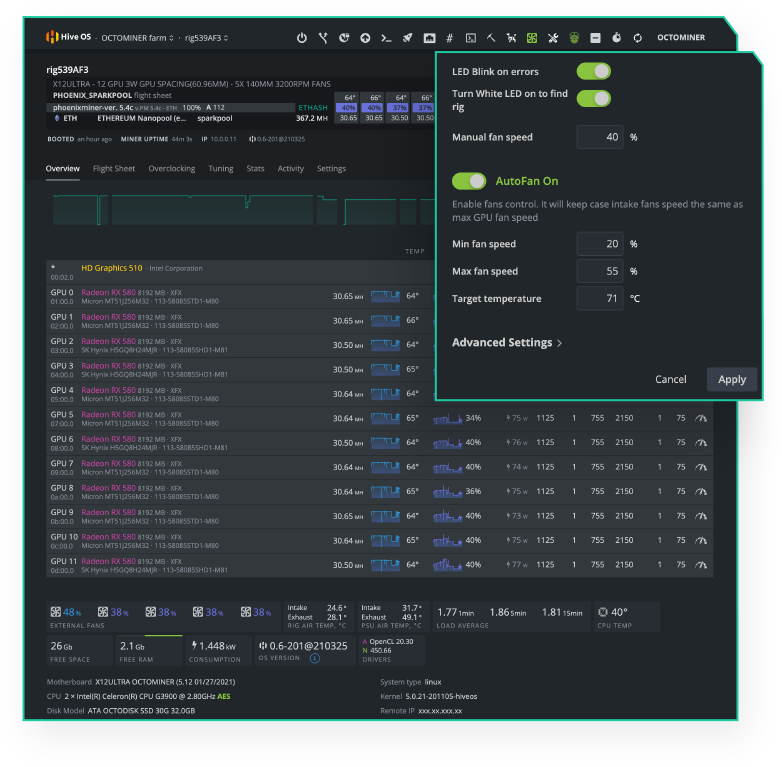 INTEGRATION EXAMPLE FOR
X12ULTRA
FEATURED ON THE OFFICIAL AMD BLOCKCHAIN WEB
MINING RIG
SPECIFICATIONS & FEATURES
OCTOMINER X12 ULTRA SPECS:
COMMON PSU CONFIGURATIONS: